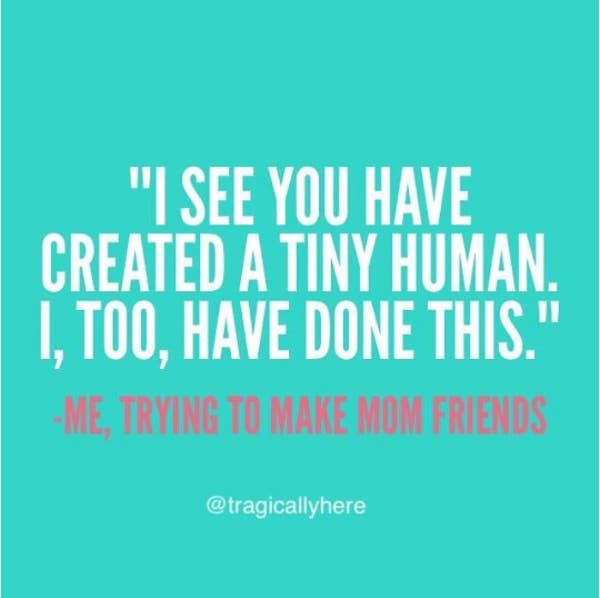 When I became a mom I realized I needed to meet more women who had just became mothers as well. I needed to make friends with these women. Not because I didn't love my friends already but because I needed to have new friends I could connect with on a different level. That level being turning to someone to talk about the color of our kids poop, being a human milk machine or a toddler's snack bitch, venting about our husbands, etc. Every so often in one of the Facebook mommy groups I belong to, there would be a mom or two asking if anyone wanted to be their mom friend. I replied a few times to these "ads". I replied because…Yes, I wanted a mom friend.
The mom friends I have made over the past 2 years, I refer to as my mommy friends. I'll say to my husband, "I'm meeting one of my mommy friends for a play-date." The thing is most of the time I have hung out with these mom friends, our kids were there. I really need to meet up with my mom friends more without our kids. Let loose. Go to happy hour. Go for a walk or run without pushing a stroller. It can be difficult to find mom friends because we are all so busy with our kids. I would love to meet more mom friends and constantly wonder how I could go about this. It would probably look weird if I went to the local Target and started handing out flyers to anyone there with a kid, asking to be my friend. As I'm writing this, it sounds like I am one desperate lady. But I'm not. I just find comfort knowing I can text someone who is probably experiencing the same thing as me…..Our kid being a little asshole or our newborn not sleeping at night or falling asleep while nursing and waking up in a panic hours later or having to drag our kid to a doctor's appointment because they have some weird rash or bump.
If you're a mom and interested in finding other moms to make your new BFF, I have decided to come up with 7 ways to help you find those magical women.
If you google mom apps, you'll find a lot. There are so many apps you can download that are like dating apps but to find mom friends instead of romantic partners or hook-ups. Some of these apps include: Peanut, MomCo, Hello Mamas, Smile Mom, and Hey! VINA. Best part is these are all free! I have the peanut app and I have met mom friends on there! I actually became really good friends with two women I met on the app.
Join mom groups on Facebook! Create a post asking if anyone would like to meet in a public place for a play-date or happy hour.
Join mom forums. I have not done this and probably won't but there are tons!
Go to a local park and make conversations with other moms. This will be hard if you're shy. Or if you are like me and the last thing you want to do at the park is talk to anyone. (Also, this might be hard if you're chasing after your kid.)
Attend a bookstore or library's story time. You can meet other moms who enjoy peace and quiet. (Ha, like story time is quiet.)
Workout classes or groups. I know that there are workout classes near my town where moms meet and workout with their kids. Or if you're like me, join a gym, Crossfit, or some type of fitness place and make friends with the other moms there that are escaping their kids for an hour.
Activities- such as swimming, little play gyms, or music classes.
Some of these may be hard to attend since a lot of us are working moms. That's why I personally like anything online that I can do when I'm up during the night nursing my 3 week old. Also dragging your kids to some of these is exhausting and by the time you arrive at your destination, you're ready to go home.
If anyone wants to be my mom friend or just my friend (if you're kid-less), feel free to contact me. I'm sarcastic, fun, and a non-judgmental bitch. LOL.